Mercator Knife Stainless Folding Red 9cm Blade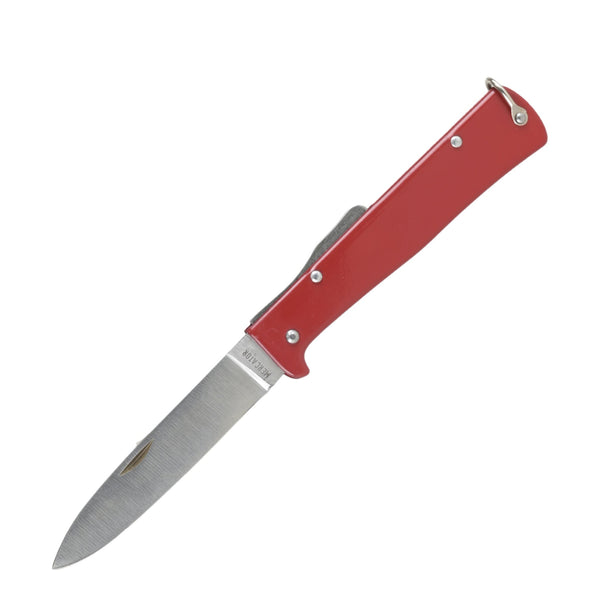 For more than 100 years the Mercator knife has been produced in Solingen almost unchanged. This Solingen original was first produced in the knife and blade forge "Mercator" Indiawerk Heinrich Kaufmann & Söhne. Even though it was not designed as an army knife, the army of Kaiser Wilhelm quickly learned to appreciate the qualities of the Mercator. The name "Kaiser Wilhelm Messer" originates from this time. As it is almost indestructible, the Mercator knife was passed on from generation to generation in the past. This is also how it made the leap into the present day.
Since 1995 this robust pocket knife has been produced by OTTER-Messer in Solingen. Its shape has remained the same until today, as well as its qualities with which it distinguishes itself in everyday life: reliability, robustness and handiness. In addition to the traditional shapes of the Mercator knife, you will also find some new models which stand out in colour but still retain their classic silhouette.
Simple, functional and robust — the Mercator knife has offered these benefits for over 100 years. Even though it wasn't designed to be an army knife, it quickly gained acceptance in Emperor William's army. This was also the time that created the name "Emperor William Knife". Today, it is used worldwide and distinguishes itself with its narrow, rugged design in everyday life. It is lockable, which facilitates safety in working with it.
Specifications:
Blade steel: Stainless steel 1.4034
Handle: steel powder-coated red
Total length: 200 mm
Blade length: 90 mm
Handle length: 110 mm
Blade shape: medium pointed
Blade thickness: 3,0 mm
Locking type: Backlock
Locking mechanism: lockable
Spring material: Carbon steel C45
Weight: 75 g
Accepted Payment options
- Visa
- Mastercard
- American Express
- Visa Debit
- Bank Deposit