Miguel Nieto Folding Knife Rescate (Rescue) Mikarta | Double blade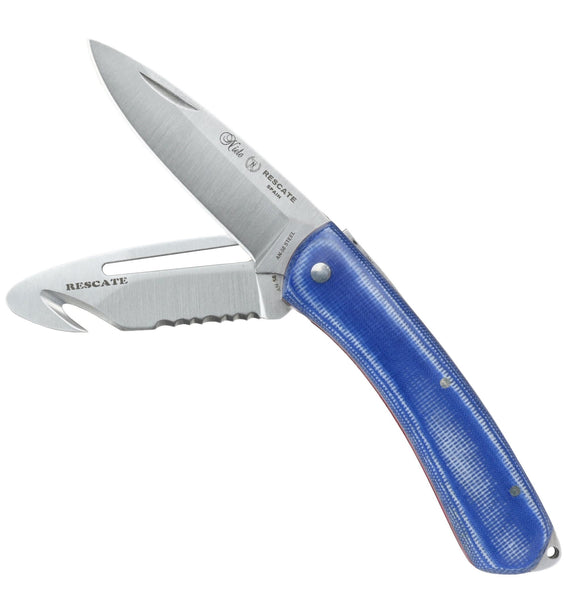 The Miguel Nieto Rescate (Rescue) Folding knife features two blades. One standard drop point blade & a Multi-purpose rescue blade. 
The rescue blade was designed to combat difficult situations or positions in which a drop point blade would struggle to be effective. The hook at the end of the rescue blade is designed to free people from harnesses, straps or belts. Following down the top, the serrated section has a Pearl Edge made to cut different ropes, tapes & fabrics. Lastly, the long hole at the middle top is for easy opening & to use as a shackle opening key.
In Albacete, in the southeast of Spain, the Miguel Nieto brand has crafted quality knives since the 16th century. Nowadays they utilise a combination of modern technologies with traditional craft experiences. The company still draws from family traditions and secrets of the craft which have been passed on from generation to generation.
The Nieto brand is synonymous with tradition and quality with modern design. When producing blades only a high-quality Spanish steel AN-58 is used, tempered to 58-60 HRC.
Specifications 
Type: Folding Knife
Blade Material: AN-58 Steel (1.4116)
Blade length: 79 mm
Blade thickness: 2 mm
Blade shape: Drop Point, Serrated & Hook
Serrated: Yes
Handle: Blue Mikarta (Micarta)
Handle length: 110 mm
Total length: 182 mm
Locking type: Slip Joint
Weight: 97 g
Origin: Spain
Warranty: Lifetime
Accepted Payment options
- Visa
- Mastercard
- American Express
- Visa Debit
- Bank Deposit