Minox ZE-5i 1-5x24 Dovetail Rail #4 German Illuminated Reticle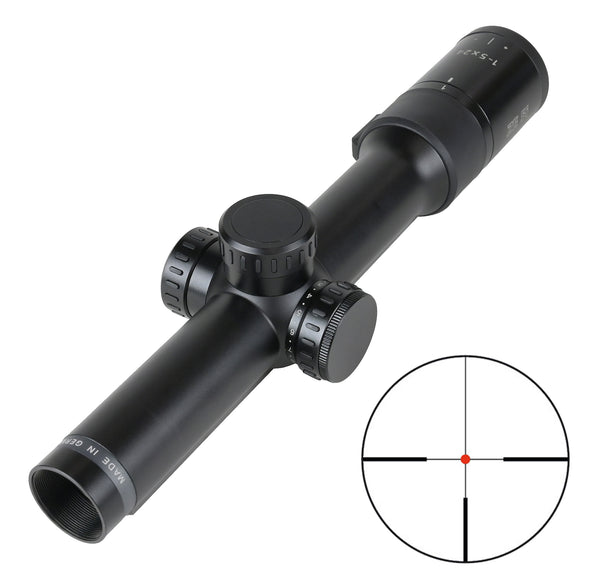 Minox ZE-5i 1-5x24 Dovetail Rail #4 German Illuminated Reticle
Please Note: This model of the Scope has a internal Doverail Rail for the Zeiss ZM/VM rail mount. 
Minox developed the 1-5x24 ZE 5i Riflescope to meet the strictest shooting requirements through precision engineering and quality materials. To emphasize its goals, Minox outfitted the optical system with High-Tech glass elements and threaded them with their proprietary M* multi-coatings for superior transmission of light and image brightness, rendering images with high-contrast and high color rendition. To enable shooters with precise shot placements, the scope features a 2nd focal plane illuminated German #4 reticle with a brilliant red dot. The reticle provides clean views and offers continuous control of illumination and an auto deactivation function after two hours. To help with wind compensation and ballistic bullet drop, the riflescope offers 38 MOA of windage and elevation adjustment ranges and a 1cm (@ 100m) per click impact point correction.
The scope's impact-resistant aluminum housing offers a 30mm maintube that is filled with argon for a fogproof and waterproof performance. The overall design features a solid and durable construction with capped precision turrets. Making adjustments is easy, thanks to the knurling with an extra-fine texture, which provides excellent traction under your fingertips. For your convenience, the battery compartment has extra space for a spare CR-2032 battery.
Features:
Precise reticle with a brilliant illuminated red dot - adjustable in 11 levels of brightness
Extremely bright red dot even for hunting during the day
Helps you to aim quickly and significantly increase your hit rate
Red dot visible at the 2nd focal plane
Auto Power-Off: automatic deactivation of the red dot
Spare battery integrated into the reticle adjustment drum
Specifications:
Clear aperture:    .94"
Parallax adjustment range (Side focus): 109 yds/100m
Fully multicoated: Yes
Eye relief: 3.94
Exit pupil high power: .45"
Exit pupil low power: .19"
Eyepiece -diopter (min): 2.5
Eyepiece +diopter (max): 2.5
Magnification high power: 5
Magnification low power: 1
Field of view low power/ft 100 yards: 110.6
Field of view high power/ft 100 yards: 23.1
Reticle adjustment per click: 1cm/100m
Windage travel - total: > or = 38 MOA
Elevation travel - total: > or = 38 MOA
Main tube outside diameter: 1.2"
Overall length: 11.2"
Front mounting distance: 3.6"
Rear mounting distance: 2.4"
Weight: 16.9oz
Accepted Payment options
- Visa
- Mastercard
- American Express
- Visa Debit
- Bank Deposit