Night Saber Spotlight Battery 12V 9,000mAh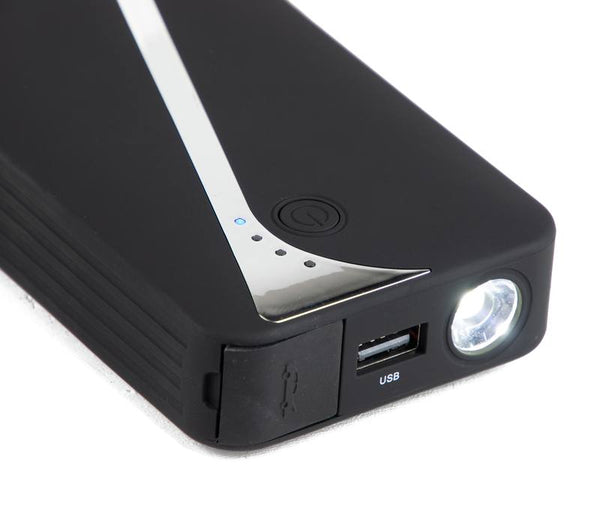 The Night Saber High Capacity Spotlight Battery is the perfect power solution when you are on the go. Its 9,000mAh capacity means it can be used to power your spotlight for those night time hunting trips, recharge your mobile phone, tablet, or GPS when you don't have access to Mains power. Or even jump start any gasoline engine that is fitted with a 12-volt battery! It even features a LED flashlight with three different modes of operation.
When tested using the Night Saber 36W 3500-lumen spotlight, the battery lasted 1 hour before going dim.
Features of the High Capacity Spotlight Battery include:
Emergency Start
Jumpstart gasoline engines in vehicle, motorcycle, boat or jetski with a 12-volt battery. USB Charging Port
Charge your cell phone, tablet, GPS or 2-way radio. Car Charging Port
Charge your battery pack during your commute. Spotlight Adapter
Run your favourite spotlight on the go! Built-in LED Flashlight
3 modes - illumination, strobe, and S.O.S. Battery Protection
From over-charging and over-discharging Automatic Power On / Off
When not it use.
Specifications:
Capacity: 9,000mAh
Input: 14V/1A, 5V/1A
Output: 5V/2A and 12V jump start
Charging Time: Approx. 3 hours hours
Start Current: 200A
Peak Current: 400A
Size: 130mm (L) x 68mm (W) x 24mm (D)
Weight: 282g
Operation Temp: -20 °C ~ 60 °C
Lifetime: >1000 cycles
Package includes:
1x Power Bank
1x Set of plug-in alligator jumper clamps
1x 3-in-1 USB Combo Cable (Mini USB, Micro USB, & Apple plugs)
1x 12-volt Car Charger for charging from a vehicles cigarette port
1x 12-volt accessory plug.
*some apple products may not charge, we recommend using your genuine apple charging cable
Accepted Payment options
- Visa
- Mastercard
- American Express
- Visa Debit
- Bank Deposit