Olight Perun 2 Rechargeable Torch/Headlamp 2500 Lumens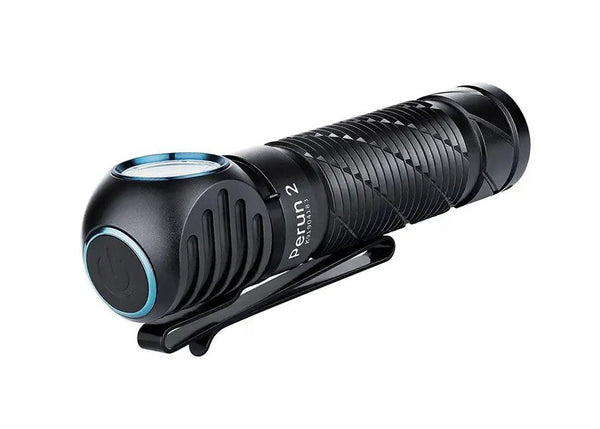 Still be troubled by hands-on situations when walking your dog or camping with your friends? The Perun 2 will be your best helper with huge performance, multiple applications, and robust design.
Key Features:
Multifunctional: with max 2,500-lumen output, the Perun 2 can be used as both a right-angle headlamp and as a powerful EDC
Proximity Sensor: Reduce the brightness and power off within 1 minute to prevent overheating when detecting an obstruction nearby
Enhanced hands-free Experience: Magnetic base for attaching onto the iron surface, stainless steel pocket clip, and adjustable headband with silicon switch for leaving you both hands to work
The Perun 2 is an upgraded version of the Perun. Powered by a 4000mAh 21700 battery, this new multi-functional right angle flashlight delivers a maximum output of 2,500 lumens and provides a longer runtime. It adopts the MCC3 USB charging cable with a charging current of up to 2A, which greatly improves the charging efficiency.
A built-in proximity sensor to drop brightness in case of obstruction nearby, a great feature for safety. The Perun 2 can be used as both a headlamp with a headband and as a handheld light with a comfortable grip, and it is easy to carry and attach with the convenient pocket clip.
Compared with the Perun, it is a more powerful and reliable illumination tool for multiple activities in the darkness.
Specifications:
MATERIALS
Body Material: Aluminum Alloy
GENERAL DATA
Beam Distance: 544 ft(166m)
Max Performance: 2,500 lumens
Charging Type: MCC3 Magnetic Charging Cable
Compatible Batteries: Customized 4000mAh 21700 Battery (Included)
Max Light Intensity: 6,889 candela
Light Source: High Performance Cool White LED
Lens / Reflector Type: TIR Optic Lens
Mode Operation: Front Switch
Form / Size Factor: Medium Size
Series: Series Perun
LIGHTING LEVELS
Turbo: 2,500~800 lumens
Run time Turbo: 2 minutes + 175 minutes
High: 500 lumens
Run time High: 270 minutes
Med: 120 lumens
Run time Med: 18 hours
Low: 30 lumens
Run time Low: 66 hours
Moon: 5 lumens
Run time Moon: 12.5 days
Strobe: No
SOS / BEACON: Yes
TECHNICAL CHARACTERISTICS
Waterproof: IPX8
Weight: 5.68 oz (161 g)
Length: 4.75 in (120.7 mm)
Head Diameter: 1.13 in (28.6 mm)
Body Diameter: 1.06 in (27 mm)
Packaging: Carton Box
Use: Everyday Carry, Car, Camping, Fishing, Household, EDC, General Use, Fishing, Climbing, Cave Exploration, Outdoor Activities, House Activities
PACKAGE CONTENTS
Perun 2 (Battery and Pocket Clip Included) x 1
Headband With Silicone Bracket x 1
MCC3 Magnetic Charging Cable x 1
Lanyard x 1
User Manual x 1
Accepted Payment options
- Visa
- Mastercard
- American Express
- Visa Debit
- Bank Deposit