Olight Warrior X Turbo Extreme Distance Tactical Torch: 1100 Lumens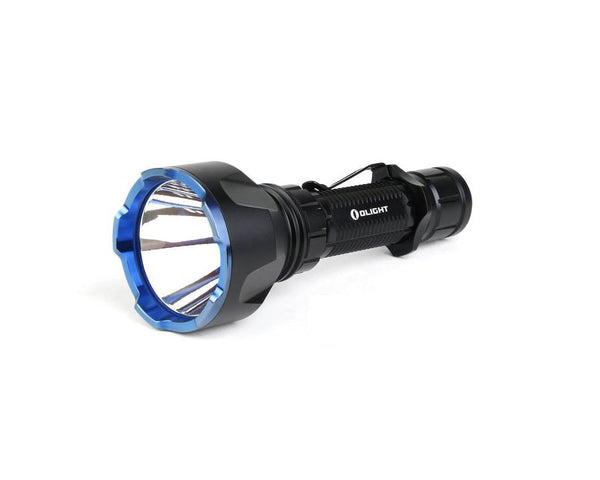 The Olight Warrior X Turbo is a new tactical thrower that produces a far-reaching light beam. In its compact size, the Warrior X Turbo delivers a max output of 1,100 lumens, a max throw of 1,000 meters, and enjoys a max runtime of 12.5 hours. It carries on various features of the Warrior X series. Recharging the light is as simple as snapping on the magnetic USB charge cable to the tailcap.
Made of aluminum alloy with a strike bezel, the Warrior X is designed to withstand the elements. It's IPX8-rated water-resistant and impact-resistant to 6.6'. It comes with a pocket clip and tactical grip ring, both removable.
Lighting Levels:
On the High setting, the single 21700 battery delivers 1100 lumens for 6.5 minutes, plus 105 minutes runtime at 600 lumens, plus 27 minutes at 300 lumens, plus 52 minutes at 150 lumens. The Low setting delivers a straight 150 lumens for 12.5 hours.
Specifications:
• Beam Distance: 3,280 ft
• Beam Distance: 1,000 m
• Max. Performance: 1,100 lumens
• Charge Type: Magnetic USB charge base
• Powered By: Customized 5000mAh 21700 Battery
• Light Intensity (candela): 250,000
• Light Form: Concentrated hotspot with soft flood light.
• Lens / Reflector Type: Reflector
• Mode Operation: Tail Switch
• Form/Size Factor: Medium-large size
• Waterproof: IPX8
• Weight: 294 g / 10.37oz
• Length: 157mm / 6.18"
• Head Diameter: 58mm / 2.28"
• Body Diameter: 26.2mm / 1.03"
Included In Box:
• Olight Warrior X Turbo Torch (battery included)
• MCC3 Magnetic USB Charging Cable
• Silicone Tactical Grip Ring
• Lanyard
• Holster
Accepted Payment options
- Visa
- Mastercard
- American Express
- Visa Debit
- Bank Deposit