OO 30Cal V2 & 50Cal Lockable Ammunition Tin Combo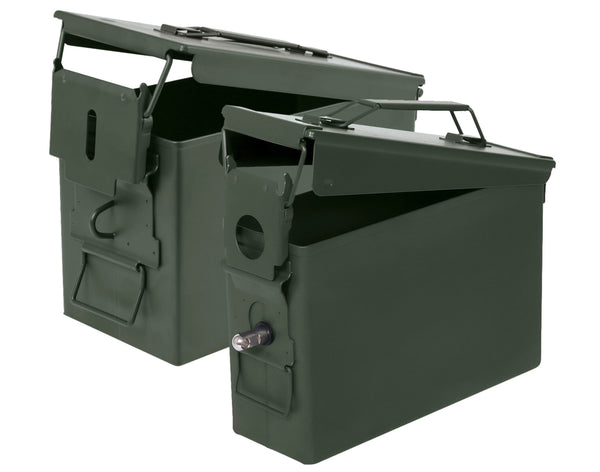 What is in the Combo?
1x OO 50Cal Ammunition Tin
1x OO 30Cal V2 Ammunition Tin
1x OO Locking Hardware Kit for Ammo Boxes
The perfect companion for the storage of any Shotgun, handgun or rifle ammunition and much more. Keep your stuff safe with this combo deal for a 30cal ammo tin and 50cal ammo tin that are both lockable and air tight. The lids have a rubber seal allowing for an airtight inside keeping anything inside dry and safe.
The 30Cal Ammo Tin can fit into the 50Cal Ammo Tin as long as the "Locking Hardware" is removed from the 30Cal when placed inside 
Features:
Waterproof and secure
Both ammunition tins are lockable
Lid clamps on tightly.
Great for tools, ammo, heavy items or valuables. 
Items inside remain safe and dry even when tin is buried.
50Cal Dimensions
Length: 320 mm
Height: 195 mm
Width: 155 mm
Depth: 182 mm
Weight: 2.7 Kgs
V2 30Cal Dimensions
Length: 295 mm
Height: 177 mm
Width: 97 mm
Depth: 169 mm
Weight: 1.7 Kgs
Accepted Payment options
- Visa
- Mastercard
- American Express
- Visa Debit
- Bank Deposit