OO Ammunition Tin Locking Hardware Kit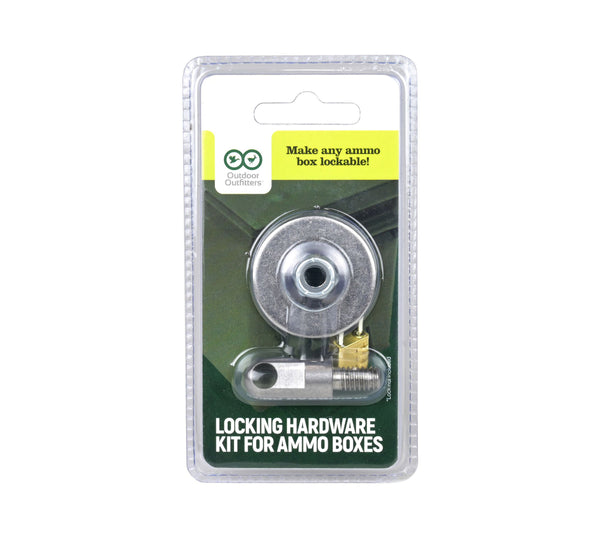 Outdoor Outfitters Locking Hardware Kit For Ammo Boxes - Make any ammo box lockable 
What's included: 
1/2" Solid Stainless Steel Stud
Large Washer
Small Washer
Rubber Washer
Grade 8 Nylon Locknut
Max shackle diameter: 5.5 mm 
PLEASE NOTE: A power drill and 8mm bit may be required for installation on some Ammunition Tins without pre-drilled holes
Instructions: 
Close lid. Find centre of the latch hole (or slot) and mark the tin at that point. Be as accurate as possible. 
(TIP: on .50cal tins with a small latch hole, close the lid and use a 12mm or 1/2" drill bit to lightly mark the centre (Do not drill through).) 
Drill an 8mm hole at the centre mark. Drilling a small pilot hole first may make this easier. 
Insert the threaded part of the locker stud through the hole from outside to inside. 
On the inside of the tin put the neoprene washer over the threads, followed by the small washer, then the nylon lock nut. Snug it tight with a wrench. Do not hold the stud with your fingers as it may have sharp edges. No thread locking compound is required but you may use some if you desire. 
With a 'big hole' or slotted lid, slip the supplied large washer over padlock stud before installing lock 
6. For tins with 'small hole' latches, some filing or dremeling of the latch hole may be required to allow it to slip over the padlock stud. The closer to centre your initial hole is drilled, the better it will fit.
Accepted Payment options
- Visa
- Mastercard
- American Express
- Visa Debit
- Bank Deposit