Outdoor Outfitters .22 Rifle Field Cleaning Kit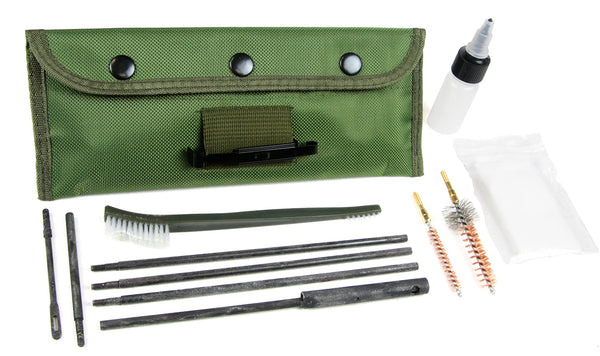 The perfect field cleaning kit to take out with you for your .22 LR or air rifle, .22 Magnum, 22-250, 222, 220 Swift, 223, or 223 WSSM rifle! This handy, conveniently sized kit contains everything you would need while out for a day or three shooting.
"What I love about this cleaning kit is that it's tiny, it's compact. it's got a loop bag for your belt. 90% of your cleaning can be done in the field so the extra 10% at home. But this kit gets most of it done, which is super convenient." - Connor, GC Christchurch
Cleaning Kit Includes:
Four piece rod with handle
Slotted jag
Bronze brush
Patches
Chamber brush
Two ended brush
Oil/solvent bottle (comes empty)
Handy carry pack with a carry loop on the back to attach to your bag 
Please note that these were originally branded as an AR15 cleaning kit, but they are most definitely suitable as a .22 caliber cleaning kit.
Accepted Payment options
- Visa
- Mastercard
- American Express
- Visa Debit
- Bank Deposit