Game On 6-Slot Mallard Decoy Bag: Camo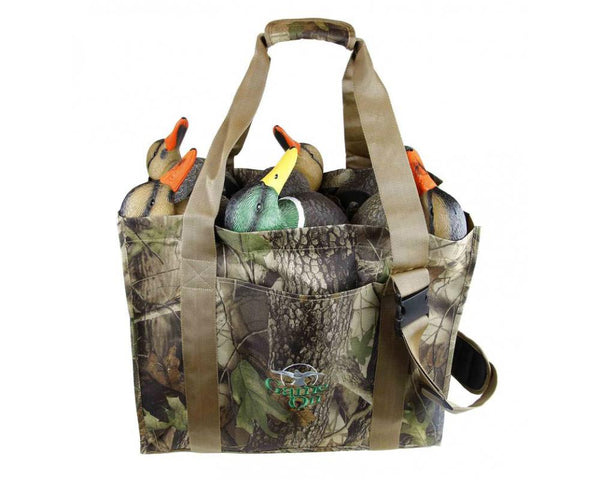 This is a must have accessory for next Duck Shooting Season! The new Game On 6 Pocket Mallard Decoy Bag is the perfect companion for your duck shooting trips. This decoy bag is designed to help you carry your large decoys with ease, with the option of either carry handles that can be joined together, or an adjustable foam padded shoulder strap, which can also be removed. 
The six individual pockets fit a large 20" decoy in each, and is made of heavy-duty camouflage polyester material, so you know you can rely on it's durability in the field. This decoy bag sports an extra storage pocket on the outside which is handy for safe keeping of some other small important items. And no need to worry about drying your decoys before packing them back in, as this Game On 6 Pocket Mallard Decoy bag features mesh on the bottom which allows water to easily drain away - an added bonus!
Pick up a couple of these Game On 6 Pocket Mallard Decoy bags today for easy transportation, and even storage of your large, awesome decoy spread. 

Features:
• Six individual pockets that fit 20" decoys
• Padded shoulder strap with adjustable length, for extra carrying comfort, plus can be removed if not needed
• Two carry handles which can be joined together with velcro making them easier to quickly grasp
• Mesh on the bottom of the bag for water draining when your decoys are wet
• One medium sized outside pocket on the front of the bag for storage space of extra gear
• Camouflage fabric so your gear doesn't stand out like a sore thumb at your shooting spot

NOTE: Decoys not included.
Accepted Payment options
- Visa
- Mastercard
- American Express
- Visa Debit
- Bank Deposit