Sightmark T-3 Magnifier with LQD Flip to Side Mount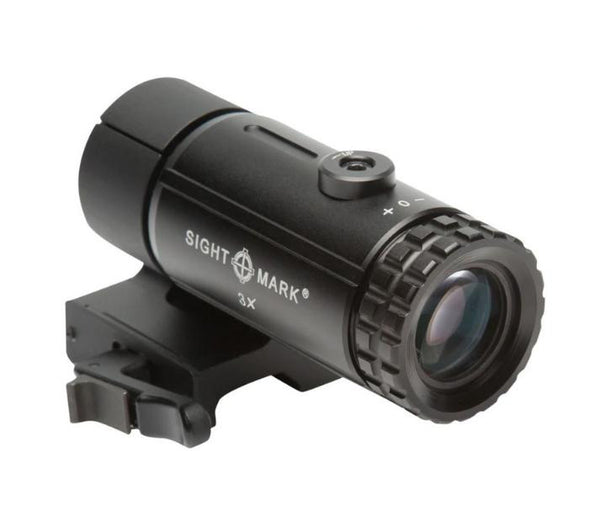 Designed to mount directly behind a reflex sight or red dot, the versatile T-3 Magnifier allows a quick and easy way to magnify your sight picture by 3x and provides an absolute co-witness. A straight tube magnifier a full .8" shorter than the model it replaces, the T-3 features a streamlined, low drag design, preventing the magnifier from snagging on equipment in important situations.
Ideal for engagements up to 100 yards, if a close-range shooting scenario calls for no magnification, simply use the T-3's flip-to-side mount to rapidly transition between the optic systems. This durable magnifier is constructed of aluminum and provides improved brightness and resolution from fully multi-coated optics.
External windage and elevation adjustments align the reticle to the center of the T-3's point of view. EOTech® and Aimpoint® compatible, the locking quick detach mount found on the T-3 lets the magnifier be quickly removed. Sightmark T-3 Magnifiers include flip-to-side LQD mount, adjustment tools and manual.
Included in Package
• Flip to side LQD mount
• Adjustment tools
• Manual
Features
• Locking, quick detach mount for quick and easy removal
• Flip-to-side mount provides rapid transition between optical systems
• Fully multi-coated, scratch resistant
• External windage/elevation adjustment for reticle alignment
• Increases magnification of accompanying sights for greater engagement range
• EOTech® and Aimpoint® compatible
• Aluminum construction
Specifications:
• Magnification: 3x
• Diameter, Objective Lens: 23 mm
• Diameter, Eyepiece: 1.26/32 in/mm
• Diameter, Exit Pupil: 7.6 mm
• Eye relief (in/mm): 2.25/57 in/mm
• Field of view, m@100m: 14.43
• Field of view, ft@100yd: 43.3
• Diopter Adjustment: +3 to -3
• Diameter, Tube: 30 mm
• Maximum Recoil: .308 Caliber
• Shockproof: Yes
• Fog Proof: No
• IP Rating (waterproof): IP55 - water resistant
• Finish/Color: Matte black
• Body Material: Aluminum
• Lens Coating: Full Multi-coated
• Mount Type: Picatinny
• Operating temperature: -30 - 71 C
• Length: 103 mm
• Width: 66.2 mm
• Height: 42.5 mm
• Weight: 300.5 g
Accepted Payment options
- Visa
- Mastercard
- American Express
- Visa Debit
- Bank Deposit