SkopeCam 3 Ranger Kit | Universal Phone Scope Mount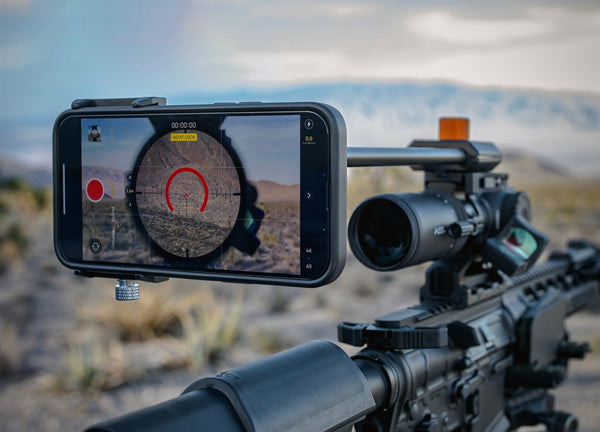 Introducing Skopecam 3 - the ultimate tool for capturing your hunting adventures in stunning detail. This universal phone mount is designed to fit almost any* phone, even with a case on, and is engineered to hold your device securely in place with its vice-like grip.
Crafted from machined aluminium with a matte black/orange finish, Skopecam 3 is built tough to withstand rugged outdoor conditions. Its modular construction makes it easy to assemble and adjust, and the improved phone clamp ensures your device stays in place without the need for a sticky pad.
Easily adjustable in three axes, Skopecam 3 helps you get the perfect camera alignment for your shot. The quick-release/attach mount allows for fast and easy setup, without the need for any tools.
Capture the memories of your hunting adventures with Skopecam 3. Pinch and zoom in on the reticle to fill the screen with your scope's view. You can even train a new hunter where to aim or check the shot's safety from an over-the-shoulder viewing perspective in real-time.
The full pack includes Skopecam's universal mount, a stock extender, and a rail mount for your scope's pic rail. You'll enjoy squint-free viewing, even if you have trouble looking through a scope with a particular eye or have eyesight problems.
Don't settle for subpar footage of your hunting trips. Upgrade to Skopecam 3 and take high-quality photos and videos with your phone's native camera app. Get ready to capture your adventures like never before. Order Skopecam 3 today.
Skopecam 3 Specifications:
Tube Size: 1" & 30mm
Max Phone Width: 51 - 95 mm
Adjustable length of focus: 0 - 194 mm
Material: Machined Aluminium
Size (LxW): 220 x 155 mm
Weight: 407 grams
Stock Extender V2 Specifications:
Material: Hard Shell Foam
Size(LxWxH): 157 x 74 x 108 mm
Weight: 65 grams
What's Included in the Box...
1x Skopecam 3
1x Scope Rail Mount
1x Stock Extender V2
1x Rubber Non-slip Stock Brace
1x Tube 1" adapter
1x Allen Key
LIFETIME WARRANTY
Skopecam loves their products and we know you will too. Skopecam also knows that LIFE HAPPENS.
So if something breaks and or doesn't work the way it should - send it back to Skopecam and they will replace it - simple as that. 
*between the width of 52 to 92 mm
Accepted Payment options
- Visa
- Mastercard
- American Express
- Visa Debit
- Bank Deposit