Smiths Standard Precision Sharpening Kit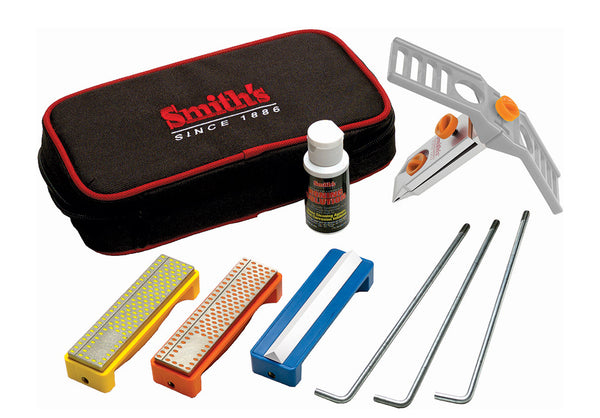 Smith's Standard Precision Sharpening System offers an easy way to sharpen all types of knives INCLUDING SERRATED. A fabric storage pouch makes this kit portable and easy to store, and the 1/2-inch wide stones makes sharpening safe, fast, and easy.
The kit comes with a Coarse Diamond Stone, Fine Arkansas Stone for finishing, a specially-shaped Triangular shaped stone for serrated edges only, and Premium Honing Solution.
Features:
More durable, less flexible folding angle guides
Folding angle guide with 4 sharpening angles to choose from instead of just 2 V-Lock Vise holds knife at consistent angle during sharpening
Folding angle guide allows sharpening at multiple angles
1/2" wide stones
Coarse diamond, fine Arkansas and serrated edge stone bars
Sharpening groove for hooks and pointed tools
 Oversized thumb screws on vice
Premium honing solution cleans and protects the sharpening surface
Fabric storage pouch
Accepted Payment options
- Visa
- Mastercard
- American Express
- Visa Debit
- Bank Deposit