Spot X Hunting Guide Book: 5th Edition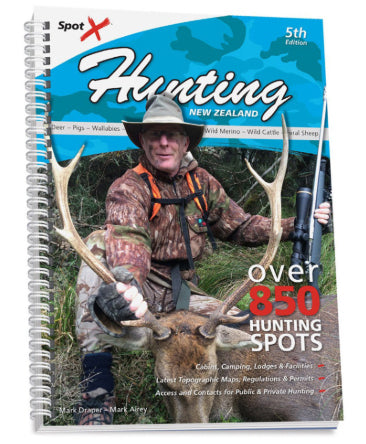 Going on a hunting trip this weekend? Make sure you have the Spot X Hunting New Zealand Guide Book in your backpack and head to your destination with confidence. There are over 1000 hunting spots throughout this 224-page book and each spot is illustrated on a topographic map with details of species available, accommodation, access, permits, restrictions and short but accurate hunting tips for each area.
Whether you're looking to chase any wild animals from Chamois to Samba, visit locations from Stewart Island to the Far North, this book will show you where to go. It provides contacts for transport, and where to find up-to-date information on the area you have chosen for your next hunt. With a number of spots in each area for every species - you can pick a location to suit your abilities.
Whether you're a novice or seasoned hunter, the Spot X Hunting New Zealand Guide Book has something new for everyone.
About The Author
In the early 90s, Mark Draper, son of the famous outdoorsman and author 'Keith Draper' decided to turn his passion into his career and became a successful guide based out of Opotiki in the Eastern Bay of Plenty. Much of his work revolves around multi-day guided trips and fishing for both fresh and saltwater species. He has written at one time or another for almost all NZ outdoors magazines and is a regular contributor to NZ Fishing News.
Features:
• Following the sell-out success of the first, second, third and four editions of Hunting New Zealand
• Illustrated with latest 1:50,000 & 1:250,000 topographic maps
• Information on over 850 hunting spots
• Species available
• Accommodation: cabins, camping, lodges, and facilities
• Access, permits, and restrictions
• Xpert hunting tips that all hunters will need to know when planning their net adventure.
Accepted Payment options
- Visa
- Mastercard
- American Express
- Visa Debit
- Bank Deposit