Swazi Totem Nuyarn Merino Shirt Ironsand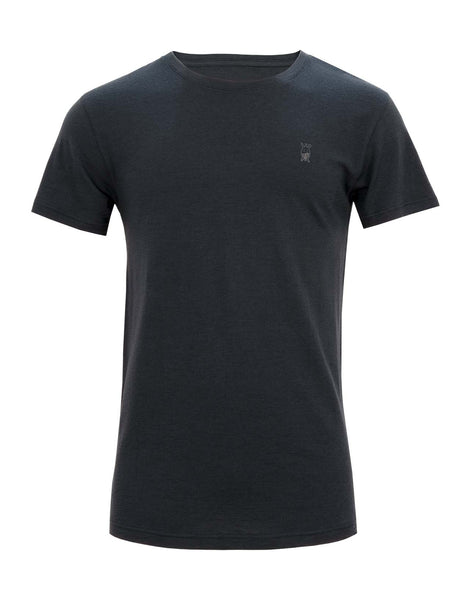 The Swazi Totem shirt is a great base layer shirt for any outdoor adventure. The Totem shirt is made from revolutionary Nuyarn® merino, known as the world's first performance wool. 
Similar to processing foods, where nutrients are lost through milling, heating and fluid removal, wool, when processed, doesn't typically have the same natural characteristics as it did when worn by a fluffy merino ewe in the high country. Hence, some would argue the full benefits of wool have never been captured due to how wool is processed.
Furthermore, Nuyarn® states, "Traditional spinning twists the life out of wool by compressing natural air pockets, introducing tension, creating loops and restricting the natural movement of the fibres – essentially creating a rope-like structure that can be itchy next to the skin". Nuyarn® performance merino wool doesn't twist the fibres; rather, it drafts wool fibres along a high-performance filament which results in two-ply yarns that possess more aeration (ability to circulate air) and volume, in forth, achieving greater performance gains overall.
The main feature of Nuyarn® wool is it's ability to recycle moisture ingress and in forth produce faster drying times – up to five times faster than conventional merino wool.
Wicking of water vapour and droplets has always been a strong characteristic of merino wool due to the increased aeration, and with Nuyarn® technology, it takes these properties to another level. On the durability front, Nuyarn® wool produces 35% more elasticity, 50% increase in tensile strength and 120% stronger seams than conventional ring-spun merino wool. As a result, this performance wool combines several durability factors to enable a garment life span of around 3.3 times greater than conventional merino wool. With greater volume and aeration (around 35% more), we see an increase in loft properties (level of insulation) which carries over into 35% gains achieved in thermal retention and 53% less air permeability (increase in windproofing ability).
So it's clear how Swazi Totem wool shirt should be a staple in your hunting gear!
Features:
Dries up to 5x faster than conventional merino
35% more elasticity yet it regains it's original shape
35% more thermal retention than conventional merino. Warmer when it's cool. Cooler when it's warm
50% more durable than conventional merino
53% more resistant to wind than conventional merino
Odour neutralising - can be worn for days at a time (seriously!) without those nasty niffs
Ultra-soft and lightweight 
Allows moisture to wick away from your body 
Keeps your core at a constant temperature even when wet
Cut extra long to keep vitals protected and warm, and to prevent the top riding up during movement
Packs down exceptionally small
Made from a highly sustainable product
UPF 50+
Specifications:
Fabric & Care: NuYarn® 125gsm Merino
Layer: Base layer
Function: Breathable with UPF 50+
Conditions: All conditions. Nuyarn® Merino is a top performer in all weather.
Weight: Size Large - 129 grams / 0.28 lbs
Accepted Payment options
- Visa
- Mastercard
- American Express
- Visa Debit
- Bank Deposit