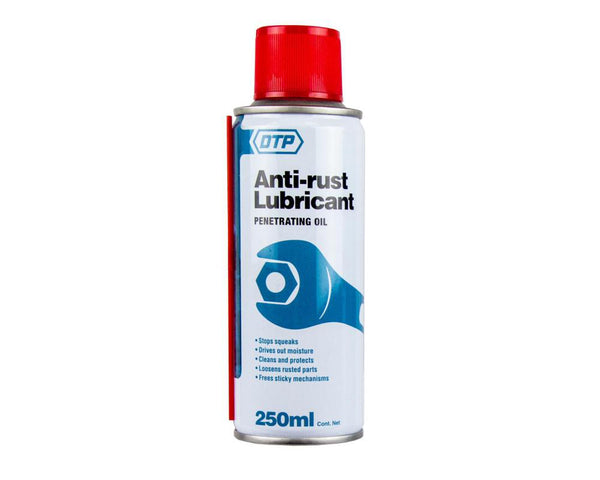 DTP's 5-in-1 Gun Oil is perfect for stopping squeaks, driving out moisture, loosening rusted and corroded parts, and freeing stuck or seized mechanisms. It also cleans and provides a barrier against rust and corrosion.
Available in a 250ml or 650ml can.
Features:
Stop Squeaks: Penetrates and lubricates hinges, castors, springers, taps, handle, windows, pedals, an office chairs.|

Drives Out Moisture: Drives out water on metal surfaces e.g. electrical contacts, car ignitions, tools (incl.garden), motorcycle engines and outboard motors, and helps start wet engines.

Cleans and Protects: Dissolves grease, gum, and hard water deposits. Leaves protective film against rust and corrosion on bikes, prams, chrome parts, motorcycles, outboard motors, and tools.

Loosens Rusted Parts: Thoroughly penetrates and loosens rusted, corroded and seized nuts, bolts, controls, cables, and other fasteners.

Free Sticky Mechanisms: Un-jams and lubricates door locks, zippers, controls, linkages, and cables.
Accepted Payment options
- Visa
- Mastercard
- American Express
- Visa Debit
- Bank Deposit