Guide TN650 2.8-22.4x OLED Thermal Binocular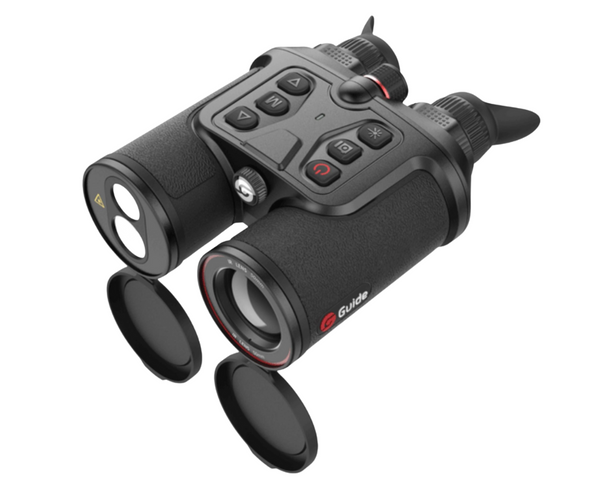 The Guide TN Normae Series follows classic binocular design, greatly reducing the fatigue feeling of long-time observation. It adopts high-sensitivity VOx uncooled IR detector, bring you high quality imaging and immersive observation experience with full color OLED 1024 × 768 high-definition display. A variety of functions to meet all your needs, such as taking photos, videos, WIFI, laser ranging, GPS, compass, etc.
Features:
• Ergonomic design for easy observation and operation
• High Quality Imaging Day and Night
• Full-color OLED display
• Well-designed PIP mode, highlighting the target
• Smooth Zoom For Flexible Searching
• Multiple Color Palettes to Highlight the Target
• Multiple scene modes for highlighting target clearly
• Photo and Video Recording
• With IP66 waterproof-rated for protection from heavy-rainfall, dust, and impact.
Infrared detector
• Detector type: VOx
• Detector resolution and pitch: 640 × 480, 12 μm
• Spectral range: 8 to 14 μm
• NETD: ≤30 mk
• Frame rate: 50 Hz
• Detection Range: 
Lens
• Focal length: 50 mm; F1.0
• Focus: Manual
• Field of angle: 8.78° × 6.59°
• Optical zoom: 2.8x
• Digital zoom: 1 – 8x
Display
• Display type: 0.39" OLED x 2
• Resolution: 1024 × 768
• Eyepiece: Binoculars, exit pupil distance≥16 mm, diopter adjustment: -4 to+2
• Eyepiece zoom: 13.8x
• Video output: Digital video
Power
• Battery type: 2 Replaceable 18650 batteries
• Battery life: ≥ 5.5 hours
Interface
• USB: Type C, (USB 2.0 standard), supporting power supply and data access
• Video interface: micro HDMI
• External expansion: External Display and Bluetooth remote control
• Mechanical interface: UNC ¼"-20 (Tripod mounting, L-bracket is required), Mechanical expansion interface
Functions
• PIP: Upper left, Upper middle, Upper right, Closed
• Scene modes: Enhanced, Highlight and Natural
• Ultra power saving mode: Available
• Image capturing : Yes
• Video recording : Yes
• WIFI: Transmission of real-time video via WIFI for remote control in the 2.4G frequency band and within 15 meters
• Color palettes: Black Hot, White Hot, Adjustable Red Hot, Iron Red, Blue Hot, Green Hot
• Compensation modes: Shutter and scene compensation
• Rough ranging: Available
• Laser: Laser rangefinder (up to 600 m)
• Other: GPS, Compass, Gyroscope, Bluetooth
System
• Language settings: Chinese / English / Russian / German / French
• Memory capacity: 16GB
• Start up: 2 Sec
Environmental
• Operating temperature range: -30°C to 50°C
• Storage temperature range: -40°C to 60°C
• Humidity: 10 % to 95 % non-condensing
• Shock: 30 G at 11 ms half sine pulse
• Vibration: 10 Hz - 150 Hz
• Certification: IP67, FCC, CE, RoHS, EAC, un38.3
Physical:
• Weight: ≤880 g
• Dimensions: 162 × 146 × 70 mm
Range Performance:
 

Size

Recognition Range

Detection Range

• 

Boar

0.9 x 0.7 m
630 m 
1250 m 
• 

Deer

1.5 x 0.5 m 
830 m
1650 m
• 

Human 

1.8 x 0.5 m 
1000 m
2000 m 
• 

Vehicle

2.3 x 2.3 m 
2000 m
3300 m 
Accepted Payment options
- Visa
- Mastercard
- American Express
- Visa Debit
- Bank Deposit