Jetboil Flash 2.0 Cooking System Camo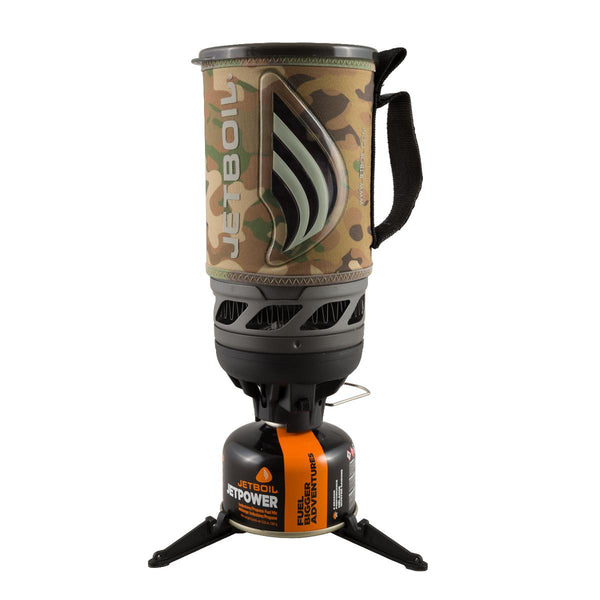 Now you can boil in seconds, not minutes. 100 seconds to be exact! Blistering boil times come standard with Jertboil's industry-leading Flash cooking system. By modeling the combustion and selecting materials to optimize efficiency, they have created the fastest Jetboil ever—cutting a full minute off their best boil time, while maintaining efficiency!
Optimized for 3-Season performance and engineered for lightning-fast boil, it's the ultimate personal system for dehydrated meals, soups, coffee, and tea. Folded for greater heat exchange, their FluxRing technology reduces boil time with half the fuel consumption of traditional systems. Waste no time. Waste no fuel. The new Flash sports an increased output (4,500 to 9,000 BTUs) and improved valve design.
With a convenient, push-button igniter and a color-change heat-indicator, you'll know exactly when the water is boiling.

*Choose colour.
Features:
• 1 Litre FluxRing cooking cup with insulating cozy
• Thermochromatic, color-change heat indicator
• Convenient, reliable push-button igniter
• Bottom cover doubles as a measuring cup and bowl
• Compatible accessories include Coffee Press, Hanging Kit, Pot Support, Skillet, FluxRing Cooking Pot and Utensils
• Pot Support and Jetpower fuel sold separately
Specifications:
• Dimensions: 4.1" x 7.1" / 104mm x 180mm
• Weight: 13.1 oz / 371 g
• Volume: 1L tall
• Compatible with: Flash, Flash Lite, MicroMo, Zip 
Accepted Payment options
- Visa
- Mastercard
- American Express
- Visa Debit
- Bank Deposit