Manitoba Dog Hunting Lightweight Rip Collar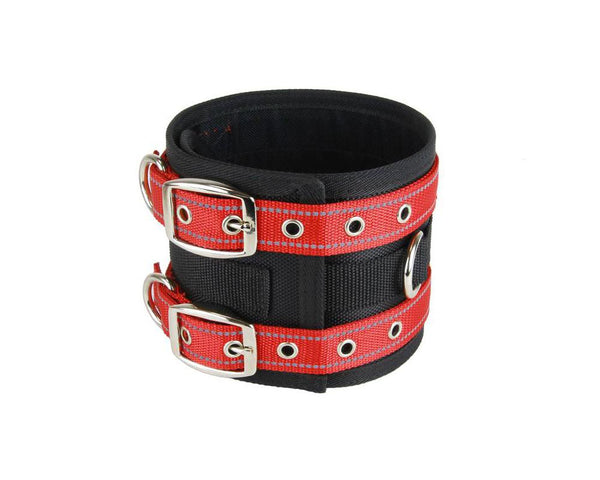 Next time you think about taking your trusty companion with you on your next pig hunting trip, pick up one of these new Manitoba Rip Dog Collars first - the perfect accessory for your little buddy!

Made from lightweight ballistic fabric, the Manitoba Rip Dog Collar has many great features, the main one being safety and security for your dog. The Manitoba Rip Dog Collar has been made to help prevent boar tusks from ripping the dog's collar and better protecting their neck.

Plus, the Manitoba Rip Dog Collar features D rings which allow you to easily attach your dog tracking collar is you use one. These collars provide a great, firm fit due to a large inner velcro closure, meaning you can adjust the collar to best suit your dogs neck. Then two strong buckles ensure the collar is fastened strong and securely.

Available in two sizes (medium or large) and both being largely size adjustable, we have one which will fit your hunting dogs!

Features:
• Made from light and extremely strong ballistic fabric
• Secure D-rings to attach most popular tracking collars
• Velcro closure for added size adjustment and secure fit
• Flexible design allowing plenty of movement, perfect for fast and agile dogs
• Strong enough for all holding dogs
• Quick-drying and non chafing
• High-vis reflective strips to your dog will always be well seen
• Close securely with two outer adjustable buckles

Specifications:
• Material: Ballistic fibre, velcro
• Colour: Black and red
• Sizes: Medium - 320mm - 450mm; Large - 460mm - 540mm (medium size pictured).

Measure around the neck where the collar would sit to determine the best size for your dog.
Accepted Payment options
- Visa
- Mastercard
- American Express
- Visa Debit
- Bank Deposit