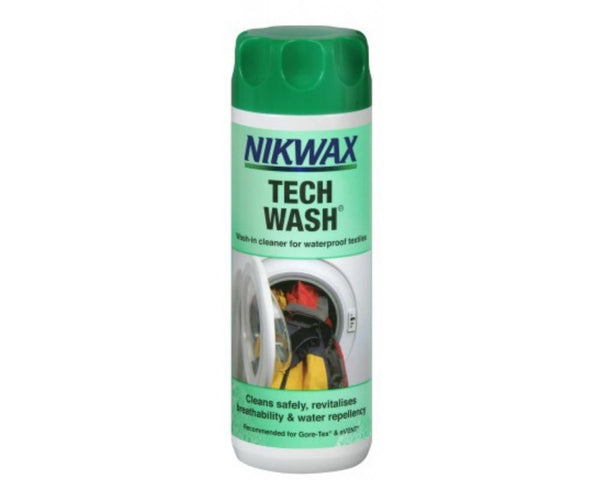 Nikwax Tech Wash: 300ml
Nikwax Tech Wash is the worlds No. 1 High performance solution for technical wet weather clothing and equipment that effectively cleans, revives breathability and water repellency, keeping you and your gear performing in all conditions from light drizzle at a local sporting event to multi-day hikes through the peaks of Australia's High Country.
Breathable waterproof garments are most likely to get sweaty and wet inside when used in damp or wet conditions. If the outer fabric absorbs water, the garment can lose up to 70% of its breathability. Therefore, the Durable Water Repellency (DWR) on the outer fabric of your jacket must be maintained to ensure comfort. Nikwax Tech Wash will revitalise the DWR and therefore breathability of your garment.
Your waterproof clothing and equipment could be soaking up water because the Durable Water Repellency (DWR) has been compromised by dirt, or because it has been cleaned with a conventional laundry detergent. Dirt attracts water and household detergents leave water attracting (hydrophilic) residues, leading to fabric 'wetting out' in wet or damp conditions.
If your waterproof clothing or equipment  is relatively new, or recently treated with a Nikwax waterproofer, then cleaning with Nikwax Tech Wash will not only remove contaminants, such as dirt and residues left behind by household detergents, but also revitalise DWR.
Accepted Payment options
- Visa
- Mastercard
- American Express
- Visa Debit
- Bank Deposit